NEW TO LARCO
WASHROOM KIT; INCLUDES EVERY THING YOU SEE BELOW.
OCCUPIED WHEN LIT BUTTON
PUSH TO LOCK BUTTON
HANDICAP BUTTON AND DOOR CONTACT WITH MULTI FUNCTION WASHROOM RELAY (ONTARIO BUILDING CODE COMPLIANT!)
IN STOCK NOW CALL TODAY FOR GREAT PRICING.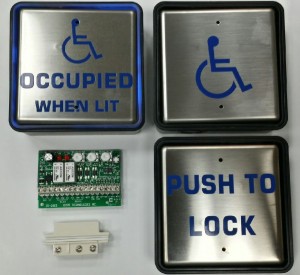 Coppershield Push Plate Switches
Designed with CuVerro® antimicrobial copper surface material which is registered by the EPA to kill more than 99.9% of bacteria, including MRSA, within two hours. That is the kind of protection your customers and employees deserve. No special cleaners are required to keep this attractive, brushed finish looking its best.
Click here

to go to the 'LARCO' Section from our Online Store.